Lascells was founded in 1997 by physics teacher John Whitehead who wanted to take his designs out of a single prep room and offer them to likeminded teachers across the UK. His ideas were quick to catch on and the company's offering of laboratory equipment went from strength to strength. As the equipment list grew so did the techniques and skills required to manufacture them.
Advanced machinery, skilled technicians and a love of science, design and engineering drove innovation, something the company is now well known for. The company continually strives to improve the design of and introduce new products to aid the teaching of science.
Through internal R&D, collaboration with partners and working alongside schools and universities Lascells continues to bring forth the best in science resources.
From the moment Lascells was founded its vision has been to make the teaching of practical science easier for educators and more enjoyable for students. Whether you are teaching forces and mechanics, experimenting with waves or planning electronics projects they have something for you.
One of the great joys of the world is understanding how it works and this is the cornerstone of their thinking. The company design physics apparatus with ease of use, durability and the learning outcomes in mind. they aim to reduce setup time and unnecessary complications so that teachers can spend valuable lesson time preparing students for a future in physics and engineering.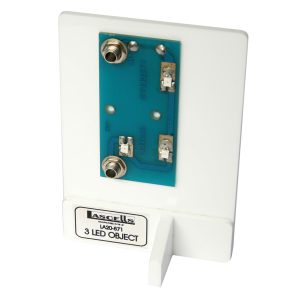 This apparatus is an optional extra for the Optics Bench Pair. It replaces the object screen in the box and removes the need for a bench lamp.