Frederiksen is an international science company represented in more than 50 countries, and is dedicated to developing and producing high-quality equipment for science education tailored to make a difference in classrooms around the world.
Frederiksen Scientific A/S is a private-owned company, which has been developing, manufacturing and delivering educational equipment for the science subjects for more than 60 years, and we are still filled with passion for science.
At Frederiksen our objective is always to deliver high-quality products with an appealing design, and provide good services and support with high pedagogical values.
Passion for science – since 1954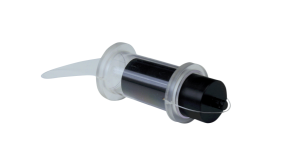 For demonstrating Archimedes law.Consists of a plastic weight with an eye and a transparent plastic container with two nylon loops: The upper loop is for suspension from a dynamometer or a balance, while the weight hangs from the lower loop.The plastic weight is immersed in water and therefore subject to buoyancy equivalent to the weight of the displaced volume of liquid.The buoyancy is compensated for by filling the plastic container with water.The inner volume of the container equals the volume of the plastic weight.