All You Need to Turn Science Lessons into Science Connections.
Ward's Science is Your Complete Solution for Materials and Support for Every Science Subject.
Because YOU make big things happen in the classroom each day, we stand with you every step of the way.
Discover a powerful combination of products, resources, and expert support for worry-free shopping, so you're free to focus on connecting your students to science – and inspiring them to explore the world.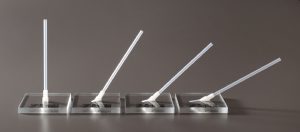 Simulate Bullet Holes for Trajectory Determinations
Follow the path of a bullet from weapon to victim or surface using the components of this ballistics set.
Two sets of predrilled plastic blocks simulate the holes produced by 9 mm and .45 caliber bullets entering at 30, 45, 60, and 90 degree angles.
Mount the blocks on a wall or any surface and determine trajectory using either trajectory rods or string, available separately.
Set of 8 blocks.