Ballistics and Trajectory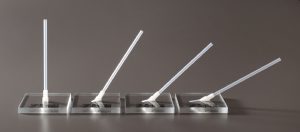 Simulate Bullet Holes for Trajectory Determinations
Follow the path of a bullet from weapon to victim or surface using the components of this ballistics set.
Two sets of predrilled plastic blocks simulate the holes produced by 9 mm and .45 caliber bullets entering at 30, 45, 60, and 90 degree angles.
Mount the blocks on a wall or any surface and determine trajectory using either trajectory rods or string, available separately.
Set of 8 blocks.