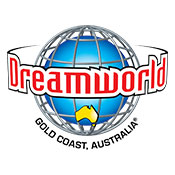 We are Australia's biggest theme park, with rides, slides and wildlife all in one place on the Gold Coast, Australia's playground. Dreamworld hosts around one million visitors each year with a staff of more than 1200 include ride operators, life guards, engineers, entertainers, animal carers and many more.
Our rides and slides
Dreamworld and WhiteWater World are home to more than 40 rides and slides
ABC Kids World is home to 8 rides and attractions, as well as opportunities to meet ABC Kids and Wiggles Characters.
The DreamWorks experience has 10 rides and attractions, plus the opportunity to meet some of your favourite Dreamworks heroes
Visit: www.dreamworld.com.au for more information.
There are no upcoming events at this time.